2023 Show Schedule
---
October 5-8th Fall Fest, Loveland
CoWN, Ranch Riding Jackpot Series, Wyoming High School Rodeo, AQHA Ranch Classes, AQHA VRH, AQHA Ranching Heritage
Schedule
Online Entry
There is a $30 late fee after 9/29.
New Saturday night Fallfest event, Cow8!
Click for info/pattern
Patterns:
Trail Pattern
AQHA VRH & RHC classes
CoWN ranch riding jackpot
Ranch Reining
CoWN Pleasure pattern 2
---
SHTX World Show & Derby
October 25-29, 2023
Click for information
---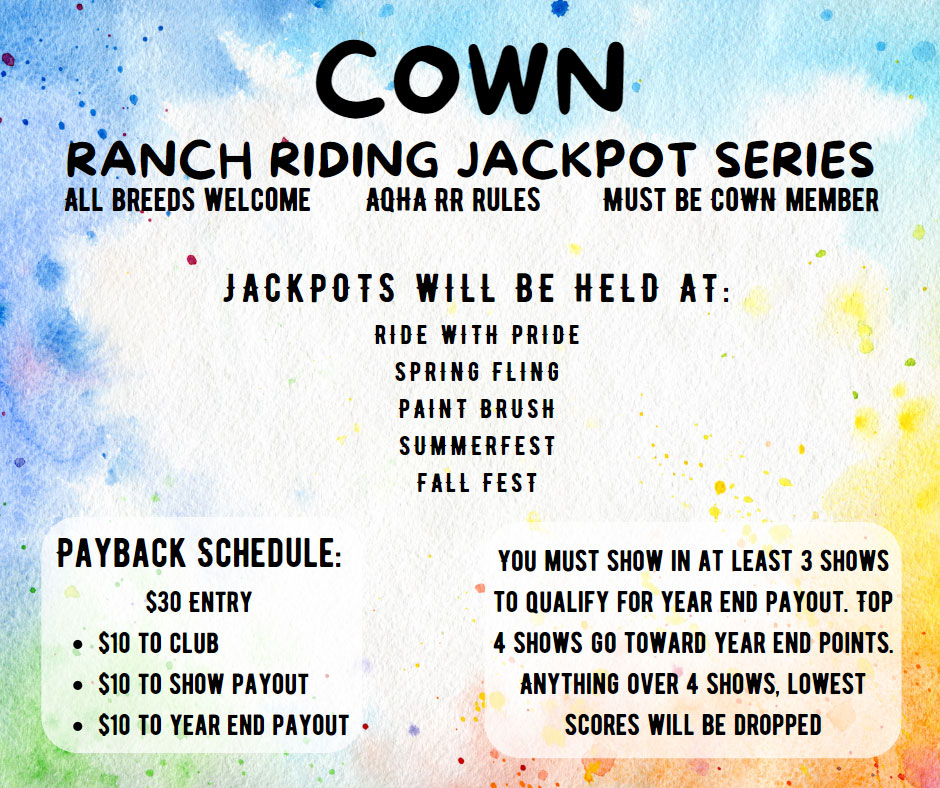 Show Notes
Want to try your hand at this CoWN thing? Here is what you need to do.
Get your entry in before the deadline! The deadline is always posted on the flyer and we try to send out a reminder as well, so there is no excuses. It is also a great way to save yourself some money! You CAN enter after the deadline but a late fee of $30 will be applied.
Fill out your entry online, there is a link in the show info section under the schedule page. We ask that you fill this form out COMPLETELY. If you are having trouble or questions reach out to the show secretary. Their contact info will be on the show flyer.
If you are showing in an AQHA class, please upload a copy of your horses papers and your AQHA membership card to the show secretary prior to the show. If you enter after the deadline bring them with you.
Not a CoWN member? If you are showing in a CoWN class, you will need a membership. You can join online or bring a hardcopy pre-filled to the show office. A link to both can be found under the membership tab.
Do you need to scratch? Not a problem as long as you let us know before the show starts. You will be responsible for cattle and office fees. Please contact the show secretary, her contact info will be on the show flyer.
The show office is typically open the evening before the show begins and by 7am the morning of the start of the show to the conclusion of the show.
PLEASE TRY TO CHECK IN EARLY!!! This helps not only you but us as well to get the show running on time. The show office typically has long lines when it opens @ 7am, so don't wait. The early bird always catches the worm!!!
CoWN is an affiliate of SHTX and follow their Handbook. If you have any questions here are a couple of helpful links! And we are always happy to help.